BOTOX® & Dysport®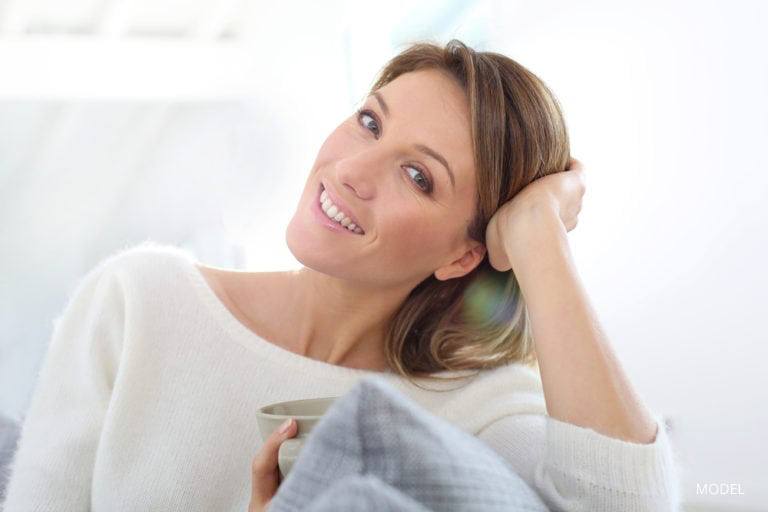 The presence of fine lines and wrinkles on the face can be disheartening, as it is usually a sure sign of the aging process taking hold. There is not much we can do to keep ourselves from getting older, but there are methods available that help keep aging at bay. Two cosmetic treatments – BOTOX® and Dysport® – have proven effective at softening the facial muscles and promoting a more youthful appearance. At Destination Aesthetics™, we offer BOTOX® and Dysport® treatments in Elk Grove, Folsom, Roseville, and Sacramento, CA, to help your skin look more refreshed and vibrant by softening the muscles responsible for fine lines and wrinkles.
What Is BOTOX®?
BOTOX® is an injectable dynamic wrinkle treatment that temporarily relaxes the muscles. When used for cosmetic purposes, BOTOX® targets the muscles in the face to alleviate wrinkles. Smiling, laughing, frowning and other expressions all contribute to muscles contracting, which creates wrinkles over time and contributes to the facial features looking older and the skin seeming less elastic.
What Is Dysport®?
As a similar drug to BOTOX®, Dysport® is an injectable neurotoxin used to treat wrinkles and facial folds in the skin. Both drugs are derived from a form of botulinum toxin type A and are injected directly into the muscles to temporarily relax and soften lines in the face. Common injection sites include forehead lines that are produced when you frown or lines around the eyes and nose. BOTOX® and Dysport® also treat protruding neck bands as well as a gummy smile. However, it is vital that both BOTOX® and Dysport® be administered by a healthcare professional who can properly inject and manipulate the correct amount of the drug to produce the most aesthetically pleasing results.
What's the Difference Between BOTOX® and Dysport®?
BOTOX® and Dysport® are both neurotoxins derived from botulinum toxin A, and they work in very similar ways. However, they are produced by different manufacturers and have slightly different formulations. It's important to work with an injector you trust to recommend the best option for you.
| | | |
| --- | --- | --- |
| | BOTOX® | Dysport® |
| Results | Results last 3 to 4 months | Results last 3 to 4 months |
| Cost | Higher cost per unit | Lower cost per unit |
| Units Needed | Typically takes fewer units per treatment area | Typically takes more units per treatment area |
| Timeline | Results appear after about 5 days | You can start seeing softening in 2-3 days, but the full treatment effect is between 10-14 days. |
| Treatment Areas | FDA approved for forehead lines, frown lines, and crow's feet | FDA approved for forehead wrinkles and frown lines |
How Do BOTOX® and Dysport® Work?
These drugs work by blocking specific nerves in the face that are in control of muscle movement. When BOTOX® or Dysport® is injected, the muscles become slightly weakened. The result is less distinct wrinkles as well as the prevention of wrinkles from deepening further. There are many misconceptions about BOTOX®, including the idea that the drug is toxic or that the muscles in the face are severely affected. However, when administered by a licensed professional, BOTOX® creates beautiful results, and the doses are so minuscule that the drug cannot be traced in the bloodstream.
Meet the #DAGs
A #DAG is a Destination Aesthetics™ girl or guy who believes in equality, freedom, love, acceptance, and peace.
As nurse practitioners, registered nurses, and licensed estheticians, we combine our years of experience and artistry in our craft with a passion for bringing out the very best in you. We are family-centric teammates on a mission to help you live your best and most beautiful life.
Meet Us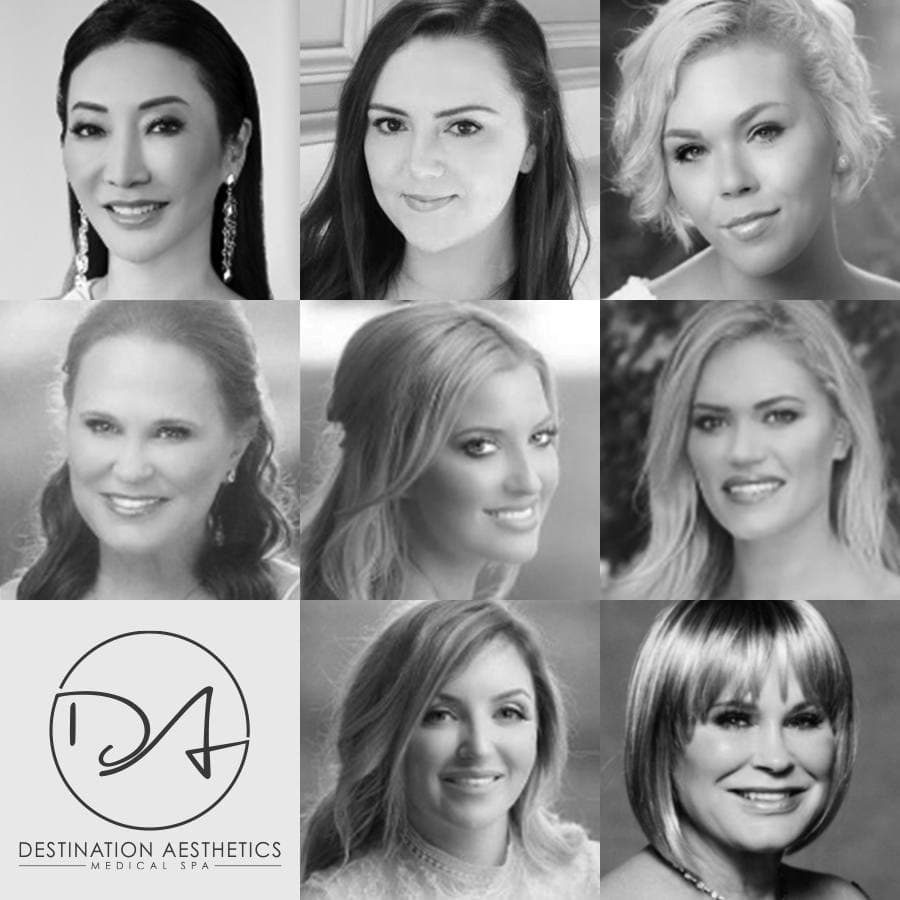 Benefits of BOTOX® and Dysport®
Natural-looking results
Adjustable dosages
Minimally invasive
Smooth complexion
More alert features
Reduced lines and wrinkles
Can BOTOX® and Dysport® Treat Things Besides Wrinkles?
BOTOX® and Dysport® both have alternative cosmetic uses as well as therapeutic uses. Some of the most popular options include:
TMJ treatment: Reduce muscle tension in the jaw. This offers the added cosmetic benefits of jawline reduction and facial slimming.
Gummy smile treatment: Relax the muscles that pull on the upper lip when you smile.
Nonsurgical brow lift: Give your brows a subtle lift by softening the muscles that pull down on your brows.
Can BOTOX® and Dysport® Be Combined With Other Treatments?
Combining BOTOX® and Dysport® with other med spa treatments is a great way to achieve even more gorgeous results. We often recommend combining neurotoxin treatments with:
Dermal fillers: Fill in deeper wrinkles and folds and enhance your facial contours.
HydraFacial®: This relaxing facial treatment gives your skin a refresh and smooths away smaller imperfections.
PDO Threads: Give your brows, jawline, and neck a subtle lift with these absorbable threads.
How Much Do BOTOX® and Dysport® Treatments Cost Near Sacramento?
Both BOTOX® and Dysport® are priced by the unit, so your final cost will depend on the personalized treatment plan you and your injector create during your consultation.
Reviews
DA sets the bar high and is the new gold standard for what excellent looks like in a day spa and cosmetic procedure practice. I will let everyone I know about the professional, qualified, skilled, safe, and outstanding experience I had - DA is the BEST!

Cari G. | Google

I absolutely LOVE this place!!... I always look forward to my visits with Shawna and her fantastic staff! I appreciate that they are never pushy, just fun, friendly and very knowledgeable 🙂

Amber G. | Google

Excellent professional services delivered with warmth & kindness. The results speak for themselves … I love this place & will to continue seek their services! Thank you, Destination Aesthetics.

Carol C. | Yelp
What to Expect at Your BOTOX® or Dysport® Appointment
What is it like to get BOTOX® or Dysport® injections at Destination Aesthetics™? Here's a look at what you can expect each step of the way.
Your Consultation
If you are curious about whether Dysport® or BOTOX® is right for you, then we welcome you to schedule a complimentary consultation with us. During this time, we will discuss the concerns you have about your face and determine your treatment goals. We will also assess your medical history and ensure that you have no underlying muscle or nerve conditions. Afterward, we will examine the muscles in your face and design a treatment plan that uses injectables to create a natural-looking and younger appearance.
Your Treatment
During treatment, the injection will be administered directly into the muscles responsible for causing wrinkles. The needle used during treatment is very thin, almost similar in size to an insulin needle, and clients usually experience minimal discomfort. Typically, between 3 and 5 injections are used in the treatment area and the procedure takes no longer than 20 minutes.
Your Recovery & Results
Most clients notice softening in a few days, and you can expect your BOTOX® or Dysport® injections to last 3 to 4 months or longer, at which time you can schedule another treatment session. Although lines in the face may decrease and seemingly disappear, you will need to receive injections regularly in order to maintain the effects.
Are BOTOX® and Dysport® Injections Safe?
Both BOTOX® and Dysport® are safe treatments to use when injected in the proper doses by a credentialed professional. Both are approved by the FDA, have long track records of safety, and carry very low likelihoods of adverse effects.
What Are Possible Side Effects of BOTOX® and Dysport® Treatments?
Side effects for these injectable treatments are usually minor, and patients can return to their normal routines right away. You may experience pain at the injection site or minor swelling and bruising. However, the side effects are temporary and will subside as healing progresses. More severe complications include double vision, drooping eyelids, blurred vision and swollen eyes. If you experience any of these serious side effects, you should consult a member of the Destination Aesthetics™ staff immediately. Overall, both BOTOX® and Dysport® have produced beautiful results for many women and men, and it's one of the most popular procedures for combatting the effects of aging.
More BOTOX® and Dysport® FAQs
Q: Is there any way to make my BOTOX® and Dysport® treatments last longer?
A: People who maintain a consistent treatment schedule over time often find their results last longer. It's likely that, with regular use, your results may last a few weeks longer between treatments.
Q: Is there a certain age that's best for BOTOX® and Dysport®?
A: There is no set age that's best for starting these treatments. Some people choose to start as early as their 20s to prevent wrinkles from forming, while others choose to wait until they notice lines remaining in their skin even when their expression is neutral. Neurotoxins work beautifully both for preventing wrinkles and smoothing them away.
Q: Is there anything I should avoid after treatment?
A: It's best to avoid lying down for at least a few hours after your appointment. This will keep any swelling down and prevent the drug from migrating to other parts of your face, a rare occurrence that may cause unwanted effects.
Q: Some people say that BOTOX® and Dysport® make you age faster. Is this true?
A: Nope, the opposite is actually true! When these treatments are in effect, they prevent muscles from contracting and etching wrinkles into your skin's surface. This actually helps slow and delay the formation of wrinkles. If you decide to stop treatment, wrinkles will begin to form again at a normal rate. It's important to choose an experienced injector who has an advanced understanding of facial aging to get the best long-term results.
Get Started Today
We would be happy to work with you to achieve a more youthful and radiant appearance with the use of injectables. Visit our med spa locations in Elk Grove, Folsom, Roseville, and Sacramento, CA, today. If you have additional questions about BOTOX® and Dysport® treatment, please request a consultation, call or text a location near you.
Want to Know More?
If you would like more information about Destination Aesthetics and the services we provide, give us a call! We would be happy to sit down and talk to you about your cosmetic options and answer any questions that you may have.
Model
Botox® & Dysport® Treatment Locations Near You
High-quality skin care is never far away. Call a convenient location near you to request an appointment.
BOTOX® & Dysport® Locations
Back to Top