DA Lift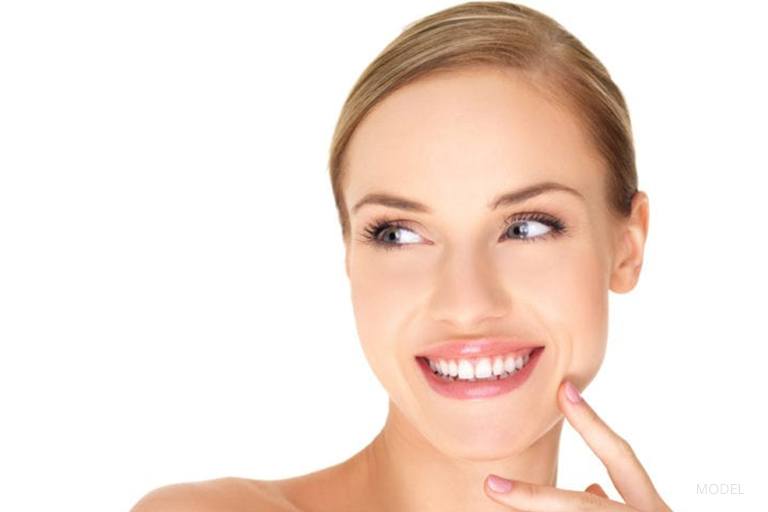 Many people wish to improve the appearance of their face without the need for invasive surgical procedures.
With the onset of fine lines, wrinkles and sunken features, facial rejuvenation is necessary in order to significantly slow the natural aging process and help you feel youthful once more. But instead of undergoing facelift or brow lift surgery, Destination Aesthetics offers a nonsurgical "liquid facelift" at our El Dorado Hills, Elk Grove, Folsom, Roseville, and Sacramento, CA, locations. Our signature Destination Lift works to relax wrinkle-causing muscles and tighten the skin so that you look years younger. The procedure uses a minimum of five customized syringes of filler and 40-50 units of BOTOX® for an optimal outcome.
What is the Destination Lift?
The Destination Lift is unique to the Destination Aesthetics office. The procedure involves the combination of dermal fillers and BOTOX® to lift sagging skin under the brow, near the eyelids, and around the chin. Each injectable is strategically placed in the skin to lift areas lacking in volume in order to add fullness to the face and create a smoother texture.
Many clients find the Destination Lift appealing because of its ability to be customized to each recipient. Depending on the areas in which you would like treated, the fillers can be injected in order to augment specific features. Surgery and anesthesia are not necessary, and the outpatient procedure can be completed in one session.
Meet the #DAGs
A #DAG is a Destination Aesthetics™ girl or guy who believes in equality, freedom, love, acceptance, and peace.
As nurse practitioners, registered nurses, and licensed estheticians, we combine our years of experience and artistry in our craft with a passion for bringing out the very best in you. We are family-centric teammates on a mission to help you live your best and most beautiful life.
Meet Us
Candidates for the Destination Lift
As with all injectable fillers, candidates must not be allergic to any of the active ingredients present and should disclose any pertinent medical history before receiving a Destination Lift. However, if you are in good general health and have realistic expectations for the procedure and recovery, then a Destination Lift may be right for you. Those with wrinkles, drooping features and haggard-looking skin will benefit the most from the liquid facelift, particularly if these concerns are located near the chin, eyebrows, and eyelids. The best way to determine your candidacy for the Destination Lift is to schedule a consultation with a member of the Destination Aesthetics team. Additionally, the Destination Lift is gentle enough to be combined with other cosmetic treatments as well as a healthy skin-care regimen in order to increase the longevity of the procedure.
Choosing the Proper Filler
The fillers used during your Destination Lift will depend on the facial features being restored. Wrinkles caused by muscle overexertion, such as forehead and frown lines, will typically receive BOTOX® injections since the filler is designed to relax muscles and reduce wrinkles. However, fine lines that are present due to folding skin, without muscle contraction, like smile lines or wrinkles around the nose, will receive dermal filler. Both injectables may be used throughout the face in order to yield the best results, and regardless of the filler you receive, the procedure should be relatively painless. We offer both BOTOX® and Dysport® for wrinkles caused by muscle contraction and a variety of dermal fillers made by brands such as Juvéderm, Sculptra, and Radiesse.
At Destination Aesthetics, our goal is to reverse the aging process and restore features in the most natural way possible. We do not want to simply focus on augmentation, but we wish to enhance your naturally radiant features to look more refreshed. We aim to perform our Destination Lift procedure in a way that complements the natural contours of your face so that your features remain in proportion with one another. We consider your facial anatomy, the amount of correction needed as well your cosmetic goals when designing a treatment plan.
Featured Reviews
DA sets the bar high and is the new gold standard for what excellent looks like in a day spa and cosmetic procedure practice. I will let everyone I know about the professional, qualified, skilled, safe, and outstanding experience I had - DA is the BEST!

Cari G. | Google

I absolutely LOVE this place!!... I always look forward to my visits with Shawna and her fantastic staff! I appreciate that they are never pushy, just fun, friendly and very knowledgeable 🙂

Amber G. | Google

Excellent professional services delivered with warmth & kindness. The results speak for themselves … I love this place & will to continue seek their services! Thank you, Destination Aesthetics.

Carol C. | Yelp
Receiving a Destination Lift
During an initial consultation, we will be able to create a custom and comprehensive treatment plan for your Destination Lift. The injections administered may vary, which means that their onset may differ as well. Whereas dermal fillers take effect immediately and last anywhere from 3 to 18 months, BOTOX® may only last up to 6 months before needing a new injection, for instance. It is important that you discuss the expectations and risks associated with the Destination Lift with a member of our team.
Regardless of whether you receive dermal fillers or BOTOX® injections, the treatment is not a permanent solution for aging skin. The molecules in the injections will eventually become metabolized by the body, and follow-up appointments will be necessary in order to maintain a youthful appearance. As with many injection procedures, clients risk minimal bruising and swelling near the injection site, although these side effects should subside within the first week of treatment.
Overall, individuals who have wrinkles caused by aging skin and contracting muscles could benefit from a series of injectables that target both culprits, which results in fuller facial features and more radiant skin. The Destination Lift is the ideal way to look and feel younger without the discomfort and recovery associated with invasive surgery. If you would like more information about the Destination Lift at Destination Aesthetics, please request a consultation, call or text a location near you.
Want to Know More?
If you would like more information about Destination Aesthetics and the services we provide, give us a call! We would be happy to sit down and talk to you about your cosmetic options and answer any questions that you may have.
Model
DA Lift Treatment Locations Near You
High-quality skin care is never far away. Call a convenient location near you to request an appointment.
Back to Top