Chemical Peels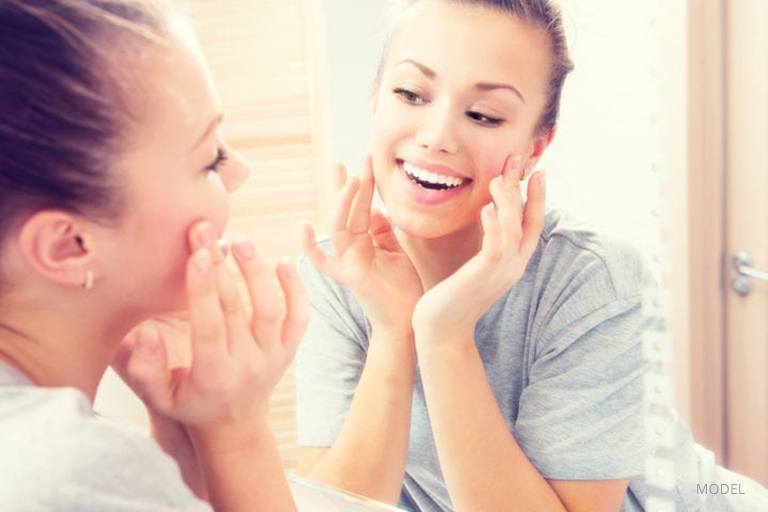 Having smooth and radiant skin is a desirable trait. It helps us look younger and feel better about our overall aesthetics.
However, as we age, wrinkles, age spots and dull or rough skin can begin to take over our once youthful appearance. When the skin becomes susceptible to premature aging, a chemical peel can help alleviate the symptoms. At Destination Aesthetics in El Dorado Hills, Elk Grove, Folsom, Roseville, and Sacramento, CA, we provide peels crafted by SkinMedica® and OBAGI® – two skincare companies whose prescription-strength products are formulated to rejuvenate the skin and help reverse the natural aging process.
What Is a Chemical Peel?
A chemical peel is an exfoliation technique designed to penetrate below the surface of the skin in order to regenerate the skin on the face, neck, or hands. Exfoliation occurs using a chemical that causes layers of skin to blister and eventually peel off. The skin that remains is smoother, softer, and healthier. Many people choose to receive a chemical peel because of how quickly it can be performed as well as its ability to effectively reduce many skin conditions.
A chemical peel can typically treat:
Sun damage and age spots
Mild to moderate acne scarring
Lines and wrinkles around the eyes and mouth
The appearance of freckles
Many chemical peels exist that penetrate the skin at varying levels of intensity. Usually, those who have never received a chemical peel will begin the process with a superficial peel using mild acid. Once the skin adjusts to the acidic qualities of the peel and heals fully, stronger peels can be used to treat the skin. Chemical peels work best for those who have mild to moderate skin conditions and will be least effective on individuals with heavy bulges or severe wrinkles.
Meet the #DAGs
A #DAG is a Destination Aesthetics™ girl or guy who believes in equality, freedom, love, acceptance, and peace.
As nurse practitioners, registered nurses, and licensed estheticians, we combine our years of experience and artistry in our craft with a passion for bringing out the very best in you. We are family-centric teammates on a mission to help you live your best and most beautiful life.
Meet Us
SkinMedica® and OBAGI® Peels
At Destination Aesthetics, we offer five different peels for varying degrees of skin imperfection. Both SkinMedica® and OBAGI® peels are clinically proven to correct many of the skin conditions that accelerate the aging process and use specific formulations to restore your appearance.
SkinMedica Illuminize Peel®: A chemical peel advised for individuals with mild skin imperfections like fine lines or slight sun damage.
SkinMedica Vitalize Peel®: A mild to moderate chemical peel that reduces the same imperfections as the Illuminize Peel®, but also treats acne scarring and skin discoloration.
SkinMedica Rejuvenize Peel™: A peel recommended for those with moderate to severe skin imperfections that produces noticeable results just after one session.
OBAGI Blue Peel RADIANCE®: A salicylic acid peel designed for those who have experience receiving chemical peels and who wish to achieve tighter and smoother skin.
What Happens Before, During and After a Peel?
If you wish to receive a chemical peel, it is vital that you discuss your cosmetic concerns with a member of the Destination Aesthetics team. We will be able to determine the chemical that will work best for your skin type and schedule a time for you to perform the procedure. During the chemical peel session, the skin on your face will be cleaned with a de-greasing solution, after which one or more chemicals will be applied to the skin. Typically, those who undergo a chemical peel feel a burning and stinging sensation that will subside after a few minutes. Once the acid is wiped off of the face, a cool compress will be applied to help soothe the skin.
Depending on the chemical peel that you receive, you may have a shorter or longer recovery period. Redness will occur once the procedure begins, which is a completely normal reaction, and within the first 24 to 48 hours after the peel, the skin will begin to tighten and flake — the peeling should last no more than seven days. More mild peels can be administered regularly, while more aggressive chemical peels may take longer before they can be repeated. While recovering at home, you may use cleansing and moisturizing solutions to soothe the skin, which will be suggested to you by Destination Aesthetics.
Featured Reviews
DA sets the bar high and is the new gold standard for what excellent looks like in a day spa and cosmetic procedure practice. I will let everyone I know about the professional, qualified, skilled, safe, and outstanding experience I had - DA is the BEST!

Cari G. | Google

I absolutely LOVE this place!!... I always look forward to my visits with Shawna and her fantastic staff! I appreciate that they are never pushy, just fun, friendly and very knowledgeable 🙂

Amber G. | Google

Excellent professional services delivered with warmth & kindness. The results speak for themselves … I love this place & will to continue seek their services! Thank you, Destination Aesthetics.

Carol C. | Yelp
Is a Chemical Peel Right for You?
At Destination Aesthetics, we understand that every individual has different skin, which is why we perform an evaluation on your skin before performing a chemical peel. We recommend scheduling a consultation with us to learn more about the chemical peels we provide as well as their separate benefits. During your consultation, it is important that you make us aware of any underlying medical conditions that you have, as a chemical peel may create an adverse reaction in certain individuals. Clients with infections, broken skin, cold sores, or any other active skin disease may not be an ideal candidate for a chemical peel.
The best way to learn about whether one of our many chemical peels is right for you is to request a consultation, call or text a Destination Aesthetics™ location near you. We look forward to working with you to enhance your skin and help you look more youthful.
Want to Know More?
If you would like more information about Destination Aesthetics and the services we provide, give us a call! We would be happy to sit down and talk to you about your cosmetic options and answer any questions that you may have.
Model
Chemical Peels Treatment Locations Near You
High-quality skin care is never far away. Call a convenient location near you to request an appointment.
Back to Top